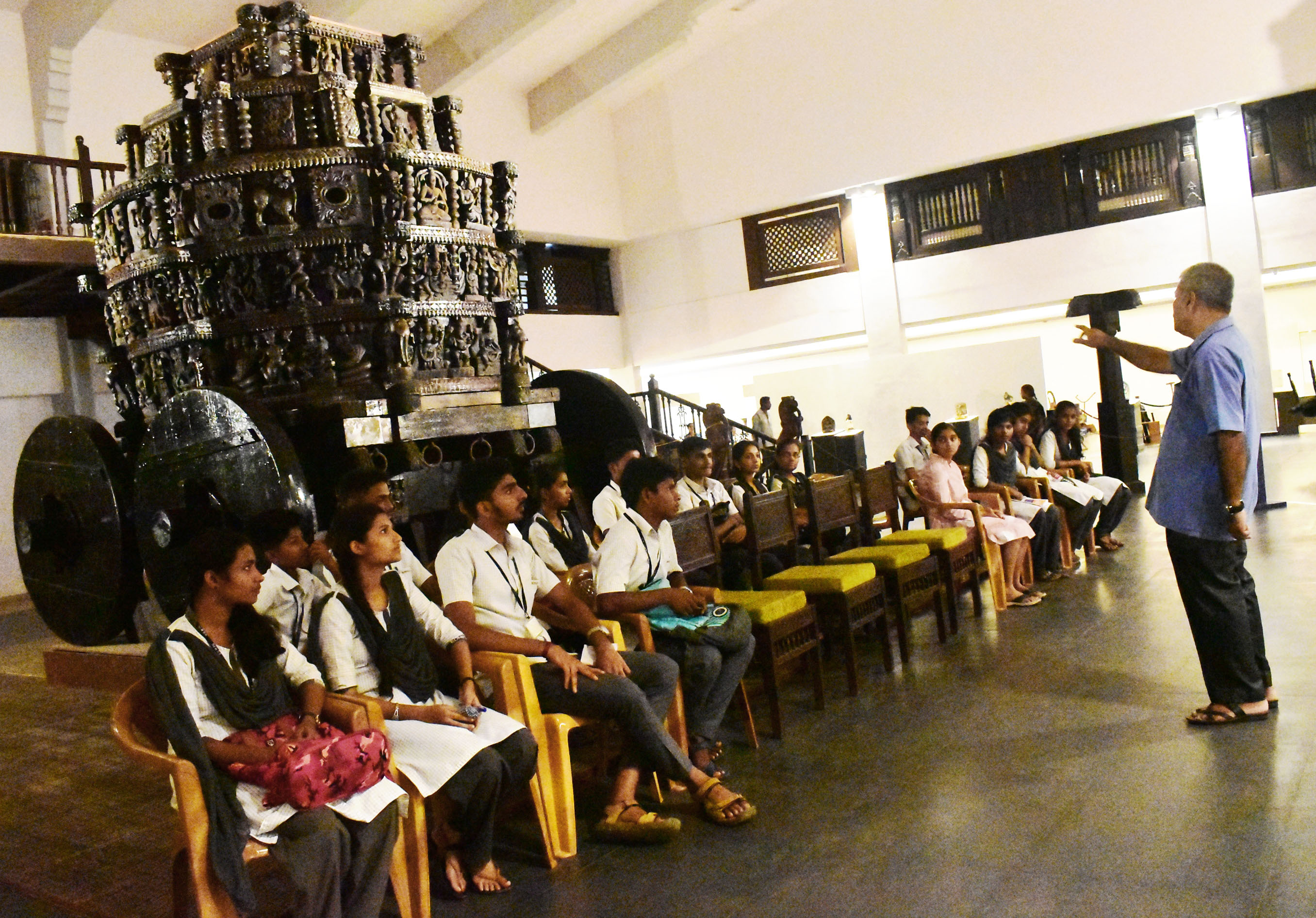 06 Jun

The hunt for knowledge – unique activity at Manjusha Antique Museum of Dharmasthala

Manjusha Antique Museum at Dharmasthala organised a unique event for students on the 1 st of June, Saturday. A Treasure Hunt contest inspiring fun based learning was organised for the first time at the museum where ancient artefacts were portrayed in the form of treasures to be sought out by the students.
16 students from SDM PU College took part in the contest who hunted for treasures within the vast museum within a span of 60 minutes. Complex clue cards were provided to them alongside a map of the museum, using which the treasures could be reached. The winning team consisting four members completed the task within 35 minutes, while the runners up could come up with all the treasures within 47 minutes.
The purpose behind the activity, which shall henceforth be a regular series named 'Interactive learning', is to develop a sense of curiosity towards knowledge of the past amongst the current generation. It was noted that the students who took part in the activity had never visited the museum before, but lingered around after the activity in order to elaborate their experiences with the artefacts during the game. The Deputy Director of the museum, Ritesh Sharma states that the purpose of the activity was served thus.

The Dharmadhikaari of Dharmasthala Dr. D Veerendra Heggade, Maatrushree Hemavathi Heggade and Shraddha Amith were also a part of the activity. Maanya, the grand-daughter of the Dharmadhikari took part in the activity by being one of the team members.

The artefacts marked as treasures for the students to figure out included a diverse set of artefacts including the Belgium glass drums, the jockey chair, the blunderbass gun, the harvesting spoon, smallest Ramayana book, pinhole camera and many more. The students reached the treasure by deciphering a complex clue, after which they could learn more about the artefact – its origin, time frame, purpose, value and so on. The activity ensured more learning than fun, which was the primary purpose.
Manjusha Antique Museum at Dharmasthala shall host such activities every fortnight from now on. Enthusiasts can visit the museum to be a part of such activities.